vShooter
The VShooter is a powerful "ALL IN ONE! portable device for your machine condition Analysis.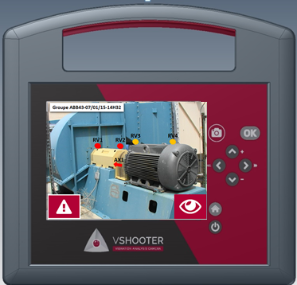 vShooter Vibration Analysis Camera VB1ST
The VShooter is a NEW INNOVATIVE Diagnostic Tool for preventive maintenance.
The VShooter is used for fault detection in rotating equipment (fans, motors, pumps and gearboxes, etc,….). Unbalance, misalignment rolling element, bearing faults and resonance conditions can all be detected with the VShooter.
On the MCP, MACHINE CONDITION PICTURE, you are able to read the measurements and see the colour coded condition of the machine, which is fused within its picture.
ISO Velocity Vibration, Bearing conditions, Temperature, Speed and all detailed information shown in the MCP.
VSHOOTER® Delivery Pack :
VSHOOTER® device
Carrying strap
Universal Power Charger 230V-50Hz/60Hz > 5V/2A
USB cable for PC connection
ICP accelerometer 100 mV/g with flexible cable and BNC output
Strong flat magnet for accelerometer
Strong ABS case
Instruction manual
Calibration & Manufacturer certificate
VSHOOTER® accelerometer:
VSHOOTER® accelerometer:
Robust ICP sensor with strong flat magnet
Sensitivity of 100 mV/g (real sensitivity is set in the device)
Flexible cable 0,5-2m with BNC output
IP68
F response: 0,5-14.000 Hz (±3 dB)
Dynamic range: Max 80g
Max T°: 120°C (Continuous)
Delivered with certificate (Sensitivity)
Calibration check: 5g@160 Hz
VShooter Front Face with an MCP
VShooter Rear Face
MCP of a Motor Pump
Using VShooter at pump
Taking Measurements of pump using the VShooter
VSHOOTER® MEASURED PARAMETERS (Metric/Imperial):
OVERALL VALUES:
A (g) in RMS from 1.000 to 10.000 Hz (0,01 to 49,99 g)
CREST (0-P/RMS) from 1.000 to 10.000 Hz (0,1 to 49,9)
V (mm/s) in RMS from (2)10 to 1.000 Hz (0,1 to 99,9 mm/s)
D (µm) in P-P from 2 to 1.000 Hz (1 to 9999 µm)
T° from 0 to 150°C with non contact infrared pyrometer
SPEED from 60 to 30.000 RPM (1Hz to 500 Hz) with LEDs stroboscope