Accessories
The Leakshooter comes in a sturdy silver case, complete with headset, charger, USB cable plus software.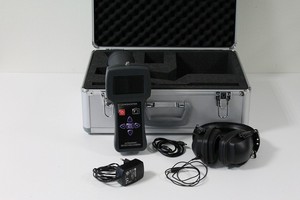 Leakshooter plus standard equipment in Silver case
The Leakshooter also has a customised cover and a carry strap, which is hung around the neck. This is ideal for the user when working for long spells with the leakshooter. There is then NO possibility of dropping the leakshooter.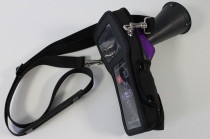 Leakshooter in holster and strap (This item is now included as standard equipment)
The Flex probe is ideal when you are working in awkward areas where you have difficulty in accessing very small connectors. The flexible 400 mm sensor may be used with both function AUTO or MANUAL. The best way to find the leak is to use the flexible probe and then the camera to take a picture of your leak.
The Flexprobe 
The LKS PROBE Contact probe is specifically used for steam trap and mechanical applications (worn bearings, gears, etc). The LKS contact probe can be used to check steam traps and quickly hear internal flow through steam traps and valves. With the probe it is possible to detect anomalies (permanent leak of steam for example). Once again, when the defect is detected, you can take a picture and insert it in your report.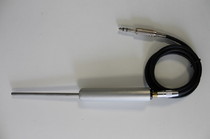 The Contact probe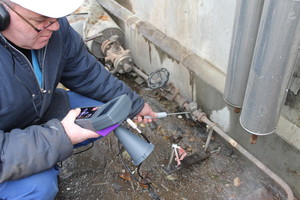 leakshooter checking for mechanical malfunctions using the contact probe
Multi Ultrasonic Transmitter (LKS1 Dome)
Multi ultrasonic dome emitter for Integrity & Tightness & Sealing control of:

 Tank, container… (Storing liquid or gas fluids)
Door, window, frame, seals, … (Building applications)
Porthole, window, door, windshield, seals… (Aeronautic, automotive, marine/nautical…)
Compatible with the LEAKSHOOTER LKS 1000 leak detection camera
Built-in magnets for attaching to steel panelling or to a tripod
Visual and audible alarm for Low battery indication
2x high/low power level (130-110 dB)
13x Bi-ultrasonic emitter system 40 kHz for optimal results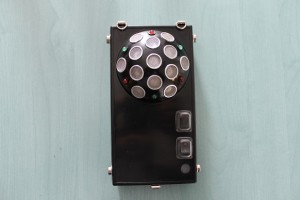 Multi Ultrasonic Transmitter LKS 1 Dome
Technical data:
LKS DOME1 Transmitter
Weight: 475g
13 emitters giving Omni-directional ultrasound emission
High Power Output: 130 dB @ 40KHz
Low Power Output: 100 dB @ 40KHz
On/Off Control
Built-in magnets for attaching to steel panelling or tripod
Power Supply: 6 x AA alkaline batteries
Battery Life: 25 hours of operation
Dimensions: 190 x 100 x 60mm (max)

in leather case: 220 x 120 x 80mm (max)

Storm proof leather case to IP66, designed to protect if dropped
Neck strap for hands-free use
LKS DOME1 Transmitter with stand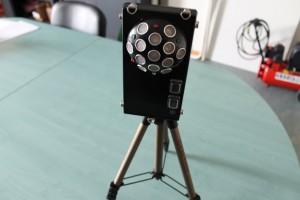 Multi Ultrasonic Transmitter complete with stand